Athens/ Atlanta BBQ Catering
Saucehouse BBQ holds group interviews every Wednesday at 4pm for
dishwashers, frontline employees, and back of house, as well as other
positions! Please bring your resume and three references. We look forward
to meeting you!
Athens GameDay Drop-off & Full service Pacakges
Our gameday catering options differ from our other catering packages. Be sure to double check the dates for UGA football games during Fall 2022 to ensure you are ordering from the correct menus!
 For full service caters on game days, we require a 2-week notice to ensure that your order will be ready accurately and on time during these busy Saturdays.
Please call: 1-888-978-7948
Email: [email protected]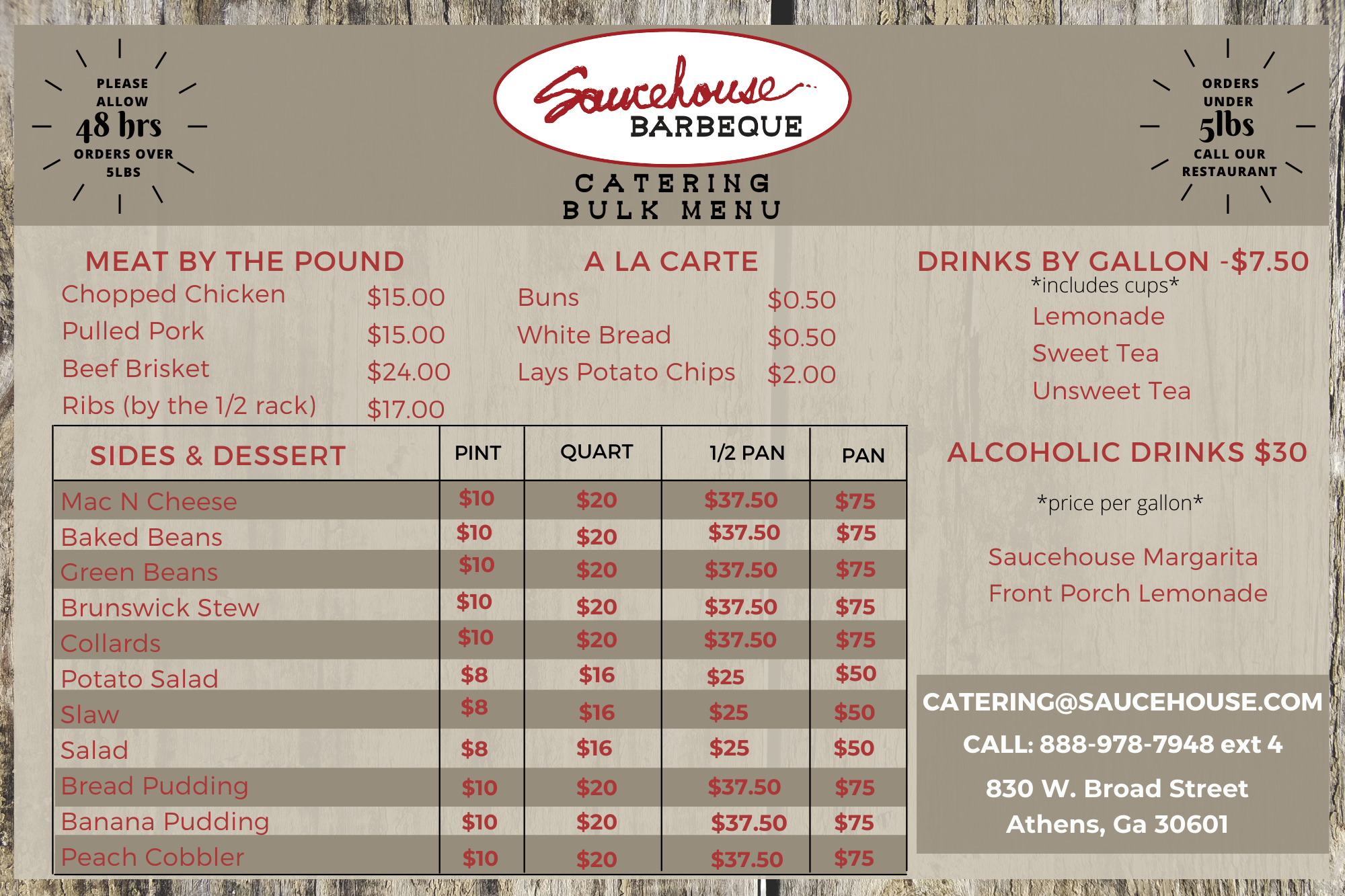 BBQ CATERING IN athens, ga
Saucehouse started catering the Athens area in 2013 two years before the restaurant opened in 2015.  Often seen as a catering company with a restaurant, our main focus is to bring the Saucehouse experience to you if you can't come to us!
If you have never tried our food before and are planning an event then make sure to give our catering staff a call and let them know you are coming!  We would be happy to take you through our Food Line and sit down with you to help you plan your big catering event! Catering is available 7 days a week!
Please call: 1-888-978-7948 (Office hours are M-F 9am-5pm)
or
Email: [email protected]
Athens DROP OFF AND PICKUP CATERING PACKAGES
Order Pick Up or Drop Off catering with Saucehouse is easy and affordable!  Simply call our friendly and easy to work with staff and they will help you set up your order and walk you through any questions you may have!
If you are familiar with our catering menu and ordering system then simply click the link below to order  online.  We require 48 hours for all catering orders to be placed to ensure that your order will be ready on time and accurate!
Please call: 1-888-978-7948
Email: [email protected]
FULL SERVICE CATERING PACKAGES
Perfect for Weddings, Birthday's, Corporate Events, Team Gatherings, Office Parties, Tailgates, or any occasion where you you want to lay back and relax while we ensure all your guests will rave about the food! Full Service catering includes all the plates, napkins, utensils, drinks, staff, setup, and cleanup. Our friendly and helpful catering staff will help you plan your event and make sure to be present throughout from start to finish.
Please call: 1-888-978-7948
Email: [email protected]
Full Service Wedding Packages
Planning a wedding for you or someone you love!  We have wedding setups and catering options to make sure that the food and service is taken care of so you won't worry at all!  Don't forget to ask about our affordable Bartending service and options!
As our main focus is on the food and service that our staff can provide at your event, we work well with other vendors and venues and can even recommend a few if you don't have many yet!  If you have questions concerning linens, decor, chairs, lighting, etc. then we would be happy to connect you to the best vendors in town and work with them to make your event spectacular!
Visit our weddings page using the icon below.
CATERED BBQ BOX MEALS
EACH BOX COMES WITH YOUR CHOICE OF MEAT, BREAD, TWO SIDES, TWO SAUCE RAMEKINS, A CHOCOLATE CHIP COOKIE, AND A UTENSIL PACKET.
OUR BOXED MEAL OPTIONS ARE A SAFE, CONVENIENT, AND DELICIOUS WAY TO SHARE A MEAL TOGETHER WHILE STILL PRACTICING SOCIAL DISTANCING.
Please call: 1-888-978-7948
Email: [email protected]
We kindly request that you give us 48 hours notice on orders of any size!